Buy
Smartwatch – Falster 2 Gray Magnetic Steel-Mesh
by Skagen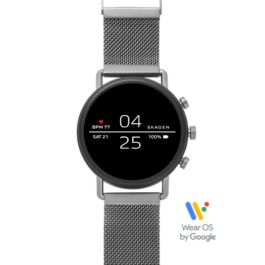 Get This Deal
Don't miss out. Buy it before they are gone
The Falster Smartwatch boasts an interactive touchscreen and a range of smart features powered with Wear OS by Google™ including: Google Assistant, smartphone notifications, activity tracking, world time, weather and more. Choose from time- or function-based displays for easy access to your favorite features, and add your favorite third-party apps from the Google Play store. The interchangeable magnetic steel-mesh strap provides secure fastening and a comfortable fit, while a battery-efficient dial design provides up to 24 hours of use on a single charge. Each watch comes with a magnetic charger.
Visit our Learn More and FAQs pages for more information.
Wear OS by Google works with phones running Android 4.4+ (excluding Go edition) or iOS 9.3+. Supported features may vary between platforms and countries. Wear OS by Google is a trademark of Google LLC. Google Assistant and Google Pay available in select markets.
*Battery life varies based on usage.
To avoid damage to your watch, only use with included charger. Do not use a USB hub, USB splitter, USB y-cable, battery pack or other peripheral device to charge.
Product should be kept more than 20cm away from implanted medical devices to minimize potential for RF interference. See product insert for full details.
Order now: Smartwatch – Falster 2 Gray Magnetic Steel $123.00 was $295.00 from skagen.com